Accounting America Inc. is founded by Jane Faulks to provide accounting and outsourced CFO services to small and mid-size businesses.
Jane is a licensed CPA in California and has received her BA from the University of Hong Kong; and her MBA from San Jose State University. She was nominated Outstanding MBA Student of the Year. With over 18 years of accounting and business experience, Jane is an expert in QuickBooks® accounting solution.
Her certification includes: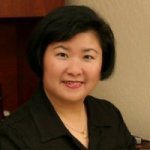 As a former auditor with a Big 4 accounting firm, Jane had served in a wide variety of industries, such as construction, dairy, farming, food processing, retail, manufacturing, and non-profit. She has developed her expertise in the construction industry during her years as a Branch Controller and Division CFO for fortune 500 companies.
As an Intuit Solution Provider and together with her extensive industry experience, she has provided recommendations to businesses to restructure their business processes and implemented job costing system to significantly improve profitability.
As a professional trainer, Jane has presented business seminars to local industry groups on topics such as Accounting for Construction Industry, Job Costing for Owners and Managers, QuickBooks for Beginners, QuickBooks for Agricultural Industry, and Excel Hands-On Workshop.
Client Testimonials
Sheila D.
Construction Company
April 9, 2016
Jane is a valued CFO, and in integral member of our Executive Management Team. Her abilities to connect with the specifics of our business, and to customize our Enterprise system to support internal process efficiencies, accountability, and customer satisfaction, have contributed substantially to our growth and profitability. She is a valued advisor in terms of overall strategy, budgeting, regulatory requirements, and new initiatives and investment decisions and implementation.
---
Irma C.
Business Owner, Construction
January 15, 2016
Part of our business is construction based we were struggling with getting accurate job costing, completion percentages. Jane stepped in created a full proof system with training providing accurate concise reports. This will allow us to focus on growth moving forward. Jane is passionate about what she does is excellent at training. She's highly intelligent, personable and made our project fun. We look forward to being long term business partners with Jane.
---
Susan V.
Business Owner, Manufacturing
November 30, 2015
Jane was most helpful when I met with her in preparation of year end taxes as well as entering purchase of equipment into my QB software. She also suggested exemption assistance for State taxes and gave me important links to follow up with application of the exemption. I feel comfortable with having her process my personal year-end taxes for the first time after having done it myself using Turbo Tax. I want to get out of doing this myself and leave it to a professional such as Jane.
---
Staci B.
Accountant, IT Company
October 22, 2015
Jane provided immediate service when a serious issue arose within our company. She was able to calmly problem solve, and walk us through exactly what needed to be done. It it a pleasure knowing that we have her to call on!
---
Stanley S.
Treasurer, Non-Profit
August, 14 2015
I am the Treasurer of a Rotary Club in Clovis Calif.. Jane Faulks from Accounting America has provided the Club and myself with excellent service for the Administration of our bookkeeping and Annual Tax reporting, using Quick Books.
---
Cassandra L.
Seminar Participant, Construction
July, 8 2015
Jane's qualifications, certifications, and expertise makes her a wonder to the Intuit world. She is very helpful and does not forget any steps in providing the help you need to grasp a better understanding (or familiarize yourself with, or even become an expert yourself) with QuickBooks. She is extremely knowledgeable in her field and I would deem you very fortunate to have her wealth of knowledge and experience to assist you. Her QuickBooks seminar for beginners helped me have a much better understanding of the way QB works. I look forward to the difference she can make in future seminars, one-on-one, and especially, MY future. Thank You so much Jane!
---
Andrew S.
Business Owner, Retail
June, 27 2015
I've been using QuickBooks nearly everyday for about three years, and it was nice to get some better insights into the "bigger picture" of being more accurate with how we post expenses, for example. Although I knew most of the things Jane went over, the most invaluable part of the seminar was the section going over Chart of Accounts, and how to make a new expense account and then being able to generate a detailed report. I'd definitely like to see Jane do a seminar on QuickBooks with a particular focus on advanced accounting in the future.
---
April G.
Accounting Staff, CPA Firm
June, 26 2015
Great presentation…easy to understand the material. Would recommend to others.
---
Beatrice R.
Business Owner, Pool Service
June, 26 2015
I have been working with QB for almost 3 years now and I found that Jane seemed very intelligent and proficient in all the functions and uses that QuickBooks has to offer. I would definitely go back to her for more intermediate training if needed.
---
Julie M.
Business Owner, Notary Business
June, 23 2015
I am a Notary Public and will soon be doing Live Scan Fingerprints as well. I met Jane through a friend. She is the most patient and wonderful person as well as being very knowledgeable about QuickBooks Products. She took the time with me to discuss my small business and what I need then recommended the QuickBooks On-Line Essentials. My business is service driven and I was surprised when setting up my books that they even had "Notary" as a business type when setting up my chart of accounts. Jane offered help at any point and she is very approachable.
---
Julie M.
Accounting Manager, Manufacturing Company
June, 23 2015
Absolutely – the best!! I was very reluctant to change payroll services, however, Jane helped me weigh out the pros and cons, and discussed the excellent reporting capabilities that Intuit Payroll has. I work at a small business and Intuit Payroll fit our needs perfectly while saving a significant amount of money per month with service fee. Jane's said, "I really want to help save companies money and that gives me satisfaction." She has earned the title of, "Pro-Advisor" and I would highly recommend her.
---
James C.
Business Owner, Construction
June, 13 2015
Our Company and QuickBooks File were born in a Garage. After the Company grew into a real business and moved from the Driveway into a real Brick and Mortar building with 17 employees, we realized that we knew a lot about Industrial Contracting but not much about how to set up an efficient and proper accounting system. Money was falling out of the holes in our collection bucket and what we created turned cumbersome and ripe for loss. We cried out for help, and along came Jane. Jane straightened out our books and procedures and and we have never been more profitable. Jane worked with our Staff in implementation of Proper Accounting Practices and training in QuickBooks processes to help make us all the efficient team we need to be and the productive company we should have been a few years ago. Thank you Jane!
---
Irma C.
Business Owner, Construction
June, 12 2015
Our company has finally found an accountant/CPA who truly understands the intricacies of job costing. Jane has been instrumental in the efficiency of jobs and the increase to our bottom line.
---
Daniel C.
Business Owner, Heating & Cooling
May, 2 2015
Jane was extremely knowledgeable and helpful in educating me on certain aspects of Quick Books 2015 and was attentive to my time line in getting the work accomplished that I required in a timely manner… She was astounding I would recommend Jane to anyone wanting a more personal experience.
---
Michael D.
Business Owner, Plumbing
May, 2 2015
I recently completed a business acquisition for a local franchise, American Leak Detection of Central California. I was hit with an eleventh hour issue that the Seller of the business was planning to take the QuickBooks Program and I needed to set up my own Accounting Program. I was referred to Jane at Accounting America. In a panic, I met with Jane to determine how I was suppose to set up our accounting program prior to the open of my newly acquired business the following week. Jane shared the options and offered to assist with the set up process prior to the upcoming opening of my business. Immediately I realized Jane was so knowledgeable of the process, products and her confidence to deliver that I started to feel better about the process. Jane completed the set up via her system late Friday and on Saturday. She met me at my office on Sunday at 5:00pm, completed the Quickbooks set up and my Bookkeeper didn't skip a beat come Monday morning. I am forever grateful to Jane and Accounting America for this unbelievable act of kindness and commitment under this unique situation.
---
Sergio V.
Seminar Participant, CSU Fresno
February, 3 2015
She was very in depth with explaining the steps to the group that was present for her presentation.
---
Delia R.
Seminar Participant, CSU Fresno
January, 29 2015
Ms. Faulks is very experienced with QuickBooks and knows how to explain its features clearly and effectively. Very informative explanation of how to use QuickBooks.
---
Cielo P.
Seminar Participant, CSU Fresno
January, 28 2015
The seminar was very informative and interesting. She started off explaining the besics such as customization and went on to thoroughly explain about inputing checks, invoices, receiving payments, etc. She was organized and interesting.
---
Ivana T.
Seminar Participant, CSU Fresno
January, 28 2015
Jane was great. She presented QB really well and she knows the in-and-out of QB. She tailored her each session to the participants' needs and/or backgrounds. She's really friendly and will answer any questions you have.
---
Dustin H.
Business Owner, Construction
July 27, 2014
Jane continues to be a wealth of knowledge and has helped us in our business in so many ways. She set up job costing procedures that have helped us to finally be able to track our profitability by job more accurately. She has also helped us save time by teaching some best practices that have made us more efficient.
---
Monique M.
Business Owner, Construction
July 2, 2014
Jane is knowledgeable, organized and clear with her advice and direction. After 12 years in business, we are finally on a path of being able to analyze and control costs and projections. Essential to moving my company to the 'next level'.
---
Susan V.
Business Owner, Service
April 25, 2014
Jane was extremely responsive in correcting payroll erroneous report and was most helpful in getting me on track for self reporting. She was quick in review of what I had in my QuickBooks program and did not hesitate to fix for me. I would not hesitate to call on her or her staff when needed. Thanks for listing her as a reference.
---
Mark S.
Administrator, Hospital
March 10, 2014
Ms. Jane Faulks has been very responsive and supportive of our continued use of QuickBooks. I presented her with a challenge that is definitely "outside the box" – the accounting package is being used by Afghans in Afghanistan. She has been extremely helpful in helping with our challenges.
---
Rosa
Accounting Staff, Bookkeeping Services
March 8, 2014
My experience today with Quickbooks went very well. Jane is an excellent instructor, very knowledgeable. The workshop was very easy to understand and was very helpful to me.
---
Lisa
Business Owner, Child Care Center
March 8, 2014
My Experience in Seminar and workshop went very well. The workshop was easy for beginners to understand. Jane is a very good and helpful instructor in combining accounting with Quick Books.
---
Diane B.
Business Owner
March 8, 2014
As a beginner, I have never really had much hands on experience with QuickBooks. She made me feel secure because it was very easy to transition from her on screen demonstrations to QuickBooks entries and reports on my laptop. Her instruction on generating reports made it quick and easy for me to see the potential to track my future business as well as find opportunities to create revenue within the future growth of my business. I appreciated her willingness to address questions related to my personal future business, even though, we were in a group setting. I would definitely take another learning course with her as she made QuickBooks easy to follow and understand.
---
Ken C.
Property Owner, Homeowners' Association
March 9, 2014
Our association has utilized Jayne's services for several years. She is professional, responsive, and goes out of her way to be helpful. If questions arise, she responds quickly. I also appreciate that she gives back to her community, as an active member of the Clovis Rotary club.
---
Dustin H.
Business Owner, Construction
March 5, 2014
I have been using Quickbooks for about 10 years now, so I am not a beginner in using the program. I have tried several times to meet with quickbooks advisors only to find out that they didn't know a whole lot more than I do. Jane was very helpful in re-structuring some of my accounts and setting up some rules to help us do job costing better. There are other advisors that are less expensive than Jane, but you get what you pay for, and she is worth it.
---
Andrea W.
Business Owner, Service
February 22, 2014
Jane responded very promptly to my phone call. She was able to fix my problem quickly while providing me with helpful tips for use in Quickbooks. I would recommend her without hesitation.
---
Peter H.
Business Manager, Retail
February 19, 2014
Enterprise 14 Installation and General Questions: She was knowledgeable. She was very responsive promptly. She was excellent with what I needed for installlation and general questions.
---
Annie G.
Accounting Staff, Construction
February 11, 2014
Jane is very knowledgeable in her field and was extremely helpful to our company.
---
Michelle B.
Accounting Staff, Construction
February 4, 2014
I'm extremely impressed with the knowledge and professionalism that Jane has provided me with. She always makes her services easily available making the value of her services quite irreplaceable. No matter the task she is able to find solutions that truly help my company's needs. If you have not called her yet, I highly suggest you do as she will always provide the best products and advice for your company.
---
Amy S.
Business Owner, Service
February 3, 2014
Jane is wonderful. I am the owner of a small business and had messed my books up royally. Jane in no time at all was able to help me fix the problem and teach me how to not make the same mistakes in the future.She was also available to meet with me in an emergency state and fix every thing. I will be referring her to multiple business owners in the Clovis and surrounding areas. Jane you are truly a life saver. Thank you so much and I look forward to working with you in the future. I'm know I will need you. Thank you so much!
---
Michelle N.
Controller, Farming
January 30, 2014
Jane, has been an excellent advisor for our QuickBooks conversion from Famous in the agriculture business. She has mapped out and setup our accounting department to smoothly convert over to QuickBooks. We are very happy and excited about the conversion.
---
Dale B.
Accounting Staff, Distribution
January 30, 2014
Jane has been extremely friendly and helpful. I will definitely be contacting her when I need help.
---
Michelle P.
Business Owner, Daycare Center
November 7, 2013
I was so excited and pleased with Jane's knowledge of Quickbooks and how well she can get you to understand why and what you need for your daily business accounting. She is a delightful person. I would highly recommend her to all. Thanks Jane!!
---
Judith P.
Treasurer, Non Profit
November 3, 2013
As a volunteer Treasurer for a small non-profit organization, I was extremely pleased with short cuts to various problems with Quickbooks that Jane showed me. She was very pleasant and helpful.
---
Dottie M.
Property Owner, Rental Business
September 29, 2013
I found Jane and Lorena while looking for someone to assist me with setting up QuickBooks. They are both wonderful! Jane is smart, kind and listened carefully. In just a few minutes she knew exactly how to tackle the issues I needed assistance with, and had me set up and rolling to get my job completed. She understood the urgency and they both helped me get the job done right away. I will be bringing all my accounting and tax issues to them! Jane worked with my schedule, and I was amazed to find they both answer questions on the weekend! I feel like I am finally at the right place, with an expert who can help me with all our small business accounting AND tax needs!
---
Lorrie G.
Business Owner, Construction
September 25, 2013
I have been using Quickbooks for over 20 years, but never to it's full potential. Jane is patiently helping me use Quickbooks to do job costing and to generate reports that help us see how our company is performing. Jane is very knowledgeable about Quickbooks. She is always friendly and happy to answer all me questions.
---
Elizabeth B.
Business Owner, Farming
September 25, 2013
Jane Faulks did an excellent job of setting up QuickBooks as our new accounting system for our business. She is highly knowledgeable of QuickBooks and her professional background in accounting and as a CPA are an additional asset and a great resource. Jane reviewed our current accounting procedures and helped us incorporate them as she trained our staff how to work with QB; this helped us make a smooth transition from the old acct system to QB. Her understanding of the various accounting methods used and what information a business needs for accounting, tax, and lending purposes was key in setting up reports and making them relevant to who or what department would use them. Jane has continued to be available for questions or issues regarding QB even though it has been 2 1/2 years since we installed it. We are very pleased with how QuickBooks is working in our business and we believe that a big part of this is the personal attention Jane gave to training and teaching each staff member and owner how to use QB for our specific needs. We highly recommend Jane and her services as a QuickBooks ProAdvisor.
---
Hilary C.
Director, Construction Trade Organization
September 20, 2013
Jane Faulks and her team have provided excellent service for our bookkeeping needs. Her Quickbooks knowledge is vast and she has shown me many ways to streamline our bookkeeping processes, saving me both time and headaches of learning the program on my own. We had a issue with our merchant services payments and deposits and Jane was able to dissect the problem and correct it better than our own CPA. I highly recommend her as a Quickbooks ProAdvisor.
---
Ellen M.
Accounting Manager, Construction
September 20, 2013
We use Premier Contractors Edition. We had another person come to set up or program and he didn't understand what we needed for our company. One of our Subcontracts referred us to Jane because she had set his system up and he was very please with her. Jane is a very friendly and out out going person. Jane was able to set up our system to the needs of our company. We learned a lot from her. I would highly recommend her to any company who is considering buying Quick books. If you have question she is always willing to help with.
---
Helen H.
Accounting Manager, Construction
September 9, 2013
I was not entirely new to QuickBooks. But the company I was hired for over a year ago does use QuickBooks Enterprise extensively. There are so many things about QuickBooks that I didn't know, such as payroll and job costing. Jane was the one who trained me from the Basic to the more Advance Functions.
We worked together quite extensively. Jane is definitely a "pro" with Quickbooks. She has taught me to be comfortable with the program. She has shown that Quickbooks can benefit a company in many ways from accounts receivable, to accounts payable, to payroll, to inventory. Her insight into Quickbooks gives a novice the confidence to keep trying. Thank you Jane.
---
James C.
Business Owner, Construction
June 26, 2013
Our business started in a garage but has grown up into a 7 figure machine that needs a lot of oiling. I was finally relieved to find a QuickBooks Pro that lived up to the title that others had fallen short of. Besides her mastering of Accountancy, Jane has the best overall experience of anyone that I have used in the Construction field. What makes her even better, is that she has a great ability to explain and teach. Knowing that I can learn from her and not be so dependant on another gives me a good feeling of security. Thanks Jane for giving my company back to me!
---
Irma C.
Business Owner, Construction
June 26, 2013
There are a lot accountants who consider themselves to be QuickBooks Experts and Pros, but I have not come across one who is a real expert in QuickBooks and has a thorough understanding of Construction. Jane Faulk truly is an expert in both. Jane is a very knowledgeable CPA and offers great customer service and support. I would highly recommend Jane to anyone who is in need of a true QuickBooks Pro. I'm so glad we found her!
---
Roxanne G.
Director, Construction Trade Organization
June 7, 2013
It is very on very rare occasions you are able to meet someone who is so passionate about what she does and possess the knowledge to be a tremendous asset to any business who has the pleasure of utilizing her service. Jane Faulks (Accounting America) is such a person. She has inspired me to do better and helped me run my organization better.
She is a tool that everyone needs in their toolbox!